Reptiles don't have the same ventilation requirements as birds do (aside from chameleons from my understanding), so carriers don't necessarily have to be exclusive to something like an actual cage. Additionally, the containers are very cheap, and some reptile species can have well over 100 babies per year (no this is not an exaggeration), so having a cheap and efficient way of transporting them is important when selling for these shows.
I remember when I went there last year, the most common I saw were veiled chameleons and sulcata tortoises. Both species lay a
lot
of eggs and are rather easy to breed when you know what you're doing.
However sulcata tortoises are small when they first hatch, but don't stay like that forever. People buy them all the time when small without knowing just how big they can get. There was one breeder I saw who brought one of the parents just to show people how big they get.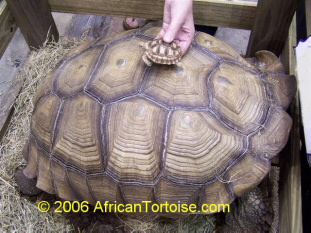 They grow pretty fast too, so you can imagine that they get rehomed fairly often.

Birds and reptiles are both considered exotic animals, so I wouldn't be surprised to know that a lot of reptile lovers may also love birds.

I remember conversing with some bird lovers last year at the reptile show too.