She's home now! My crestie is finally home! (Read
here
to catch up)
The guy messaged and said I can pick her up earlier than the initial time we planned for.
He was a teenager; few years younger than me most likely. He had three younger siblings, one sister and two brothers, and he wasn't much for talking (the kids were a little more talkative). Then again I'm not either (not in person at least) so it was somewhat awkward.
The younger kids asked what I'd name her, because she didn't have a name. The little sister suggested "Lily" (she appeared to be... Eight I think? Maybe six.). I mentioned the name "Dottie" because she's a Dalmatian morph, and they all went on about how cute the name was. And when we left they all said "bye Dottie!", so... I guess her name's Dottie now.

According to the guy, she's about 8 months old, and is actually very calm. I got to hold her for a bit before putting everything in the truck, and she just chilled in my hands for a couple minutes before slowly climbing up my arm (apparently she likes to climb onto people's shoulders and hide in long hair. She's like a reptile version of Alex!).
The vivarium is only 10 gallons, so it's not that big. I'll get a bigger one in the near future. It looks like he might've tried to do a planted vivarium? There's this clump of wood just kind of attached to the back wall, and there's a tiny pot stuck in it with a live plant. Not sure what the name of the plant is but I remember it because my mom has the same kind among all of her houseplants and from what I remember it is nontoxic. It's just too small to really climb on.
Then there appears appears to be some kind of detached root in there as well (there's a hole in the wooden thing that I think it's supposed to come out of). It doesn't look or feel real though. Paper towels on the bottom for the beddin, which I might switch out with something like peat moss, or some good bedding that can hold humidity.
Not a whole lot, but at the same time it's a bit too crowded to add anything more right now. Next time I go to the pet store, I'll see if there's anything I could possibly add. Advice, Deebee (or anyone else who might know a thing or two)?
Right now she's just chilling in the vivarium. Since the sun's about to go down she's starting to be a little active. Every time I leave the room and come back, she's in a different spot.
Only problem is that the guy forgot to provide any food he might've had for her at first. Also there's a bowl-holder that sticks to the side of the vivarium with magnets... Would be useful if it had the bowls with it. I went back because he's only about 5 minutes away. Said he didn't have bowls, but did give me some extra food; these "super worms" (although they really just look like mealworms to me) and that some powder food that you mix with water.
Then I went to the pet store to find a couple of dishes to put in the holder. There were none that fit (and all of the reptile dishes were only the kinds that sat on the floor of a terrarium). Ended up going to the dollar store and getting condiment cups which work for now (gonna see if I can find any saucers small enough to fit in the hole, so the food and water dishes would be more shallow).
She appears to be pretty calm right now, but I guess it helps that she's used to living in that vivarium already. She knows she's somewhere unfamiliar though. Every time I open the door she looks at me all like: "Do you mind??"

I've been refraining from trying to handle her, aside from a few gentle pets. She doesn't try to run away when I do this so that's a good sign.
Got her to eat a worm straight from my hand though! Didn't seem very interested in seconds, however. Perhaps one worm is big enough (or she might eat more tomorrow).
I'll most likely go back to the store to get crickets tomorrow (because genius me didn't think about doing that when I was there looking for a couple of dishes).
Got a couple of ok-quality pictures of her in her vivarium, and one of the vivarium as a whole. It's decent; has a wire mesh area where I can mist the thing to keep humidity up by misting, without having to open the door. Still want something bigger, as well as some stuff that she could climb on or hide in.
Once she's a little more comfortable with me and settled in, I'll get some better pictures of her. She's a really pretty girl.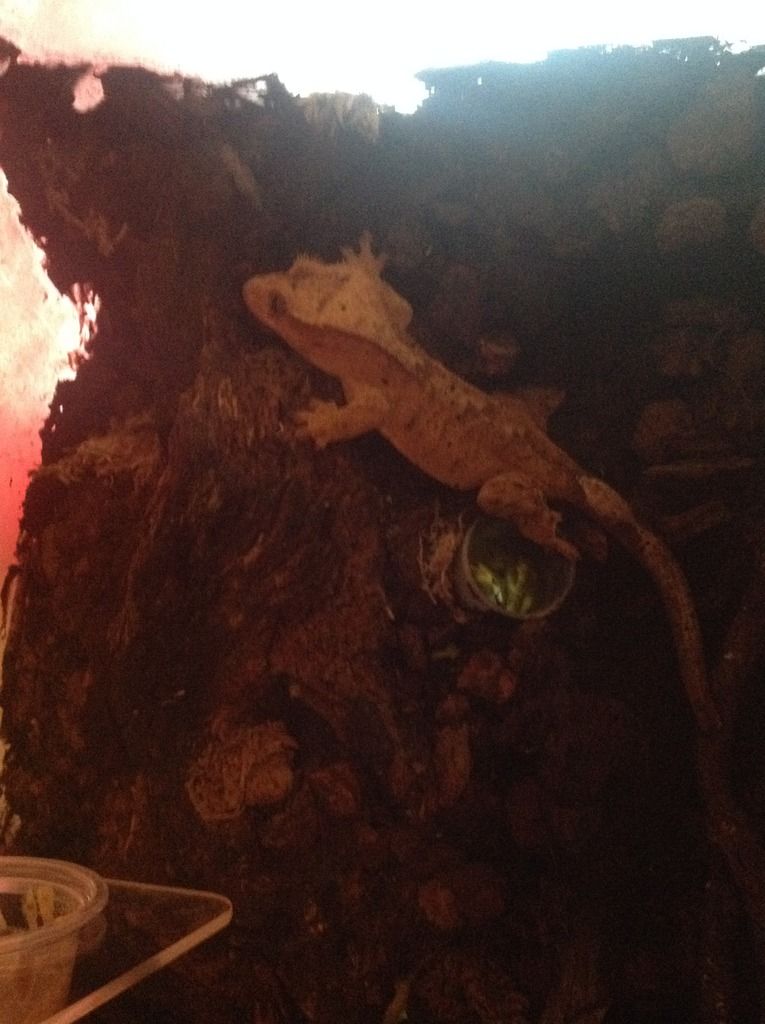 Hopefully sometime, I can get a picture under better lighting so you could see her spots a bit better. They're really small.