ok, and i join your truce party. and to celebrate your truce i bring my worshippers, and a party too!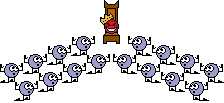 (me and my worshippers)
the party:




money for everyone



dont forget the games




and everythign else that is at a party!




food fights too

o well




and then there is the guy that goes overboard on the food fight and tosses a brick

and the tosser goes

oops
and teh band
(the singer)

( the fans)


Ok how the the party so far everyone?!!?!